What size lift chair do you need?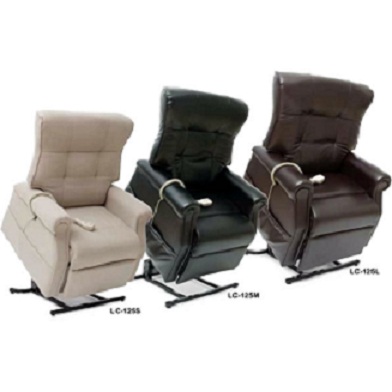 When choosing the right lift chair, size is one of the most, if not the most important factors in your decision process. Knowing your height and weight is very helpful, as well as measuring.
Use the chair that you have now– If you have a chair that you love right now, use that chair as a measurement. Measure the back height from the top of the back to the seat, the distance from the seat to the floor, and the width of the entire seat. By supplying this information to one of our representatives, they will be able to match a chair that will be perfect for you. Call 1 (800) 257-1776.
If you don't have a recliner you already like– Find a couch, or something similar, and put cardboard boxes on both sides of you as if they were going to be your armrests. If you have a pet that usually sits beside you, don't forget to account for that. While holding the boxes in place, stand up, and measure the space between the boxes. This will be your seat width. Next, measure the distance between your back and your knee to measure the seats depth. Now, the distance from the top of the chair to the seat cushion is what will determine where you head will rest. In order to make sure that your legs don't dangle from your chair and can rest comfortably on the floor, the distance from the top of the seat cushion to the floor is important. You'll need your feet on the floor when the chair starts lifting so you can stand safely. Call one of our specialists at 1 (800) 257-1776 if you need any help making the correct measurements.
Extra-tall comfort– Lift extensions for the foot rest are available for people who are over 6 feet tall.
Summary of measurements:
From top of chair to floor
From seat back to front, for depth
From one side of the seat to the other, for width
From top of the chair back to the seat cushion
Weight Limits and Capacities
When choosing your lift chair, making sure you get a chair with the right weight capacity is very important. Be sure to get a chair that is above your average weight, but as close to it as possible. There are chairs that have weight capacities of up to 700 pounds.
Call
1 (800) 347-7690
for our lowest prices!