Choosing the right covering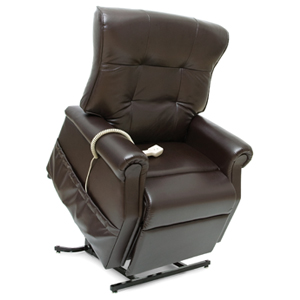 There is more to consider when choosing a fabric for your lift chair than appearance alone. Here are some points to consider when making your decision.
Food stain resistance– Many of today's fabrics have some sort of stain-guard built-in already, for those who like to enjoy snacks or meals in their chair. Some of the easiest to clean options are vinyl and imitation leather.
Incontinence protection– Incontinence is an issue that nobody likes to deal with, but it is a reality. By choosing the right fabrics and using absorbent pads, this situation can be much easier to deal with.
Miracle fabrics– some manufacturers like Pride have a large array of fabrics to choose from. "Miracle fabrics" are fabrics that have special qualities to make them more stain resistant for certain kinds of stains. There are many options available, so you can speak with a representative at 1 (800) 257-1776 to figure out which is best for you. To find out more information on miracle fabrics, try one of the resources:
Breathability– If you're someone who plans on sitting or sleeping in your chair for long periods of time, breathability is an important factor. Choosing a fabric that breathes better will make your chair much more comfortable. Most vinyl or leather materials don't breathe very well, but Golden Technologies Brisa offers leather that is an exception to this.
Safety
– Lift chairs are required to meet federal fire code regulations. California, along with some other states, have special regulations. Mobility Superstore will offer you a wide selection that will meet federal regulations as well your particular state's rules. If this is an area of concern, you can call one of our experts at
1 (800) 257-1776
or visit
http://www.pfa.org/intouch/new_pdf/lr_IntouchV2.2.pdf
for more information on fire codes.
Choosing your style
Button-back– Button-back recliners tend to have a firmer feel to them. The buttons stretch the fabric, so it's tighter with one or multiple rows of buttons. Sometimes this style matches other furniture you may have in the room or maybe you prefer a firmer chair.
Pillow-back– Pillow-back recliners are for those who prefer and softer, cushier chair that they can sink into. Some models are even customizable so that you can take filling out of one part of the chair and add it to another.
Wall-hugger – These models are able to sit much closer to the wall than standard lift chairs. These types of chairs are recommended for those in tight areas.
Arm trays– Many models are available with built-in arm trays for those of you who enjoy reading, eating or doing any other type of activity that requires a flat surface.
Call
1 (800) 347-7690
for our lowest prices!