Features you might want to think about: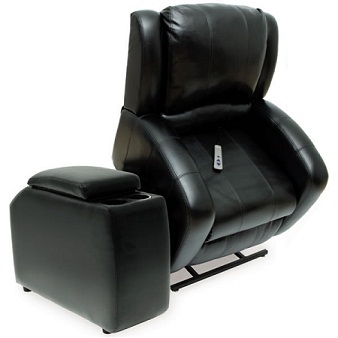 Massage– Massage chairs are very affordable and in most cases, not much more than a standard lift chair. So when making your decision, make sure you look at what little extra cost a massage chair will be.
Heat– Some people who have circulatory problems may benefit from having a chair with a built-in heating mechanism. Many chairs will heat in different places, so they are definitely worth checking out, even if you don't have circulatory problems.
Extra fabric – When furnishing your home with a new piece of furniture, you may find that you would like to tie it into the room a little more. This is easy with an option of having extra fabric for pillows, covers, or whatever else you would like to use it for.
Extra pillows– Extra pillows are also the easiest way to tie your new lift chair in with the rest of the room, or just to use with your new chair.
Armrest and Head covers– many people prefer to have covers for these areas, for protection or for decorative purposes. Make sure your model comes with these, or at least offers them as an option.
Table trays– most lift chair models come with option of table trays that can mount to your chair. The table can be put out of the way when you don't need it, and is very convenient to use when you do!
Flip-open arm tray tables - these tables are great for completely hiding your table, when it's not in use.
Removable armrests– for those with limited mobility and need to have the ability to slide into their chair, removable armrests are a great option. Transferring into the chair is easy with this option.
Media chairs– for those who enjoy using a tablet, laptop, or watch TV, these chairs are a great option to have.
Mattress– A removable mattress is an available option for those who tend to sleep in their recliners often.
Call
1 (800) 347-7690
for our lowest prices!