Stair Lift Preparation and Installation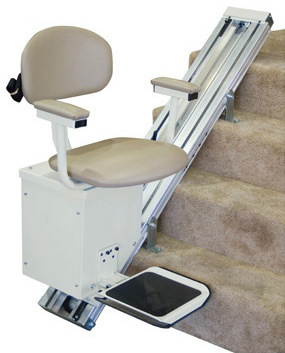 Stair lifts are mounted directly onto the stairs, due to the weight pressing down. A wall, in most cases will not support the weight of a stair lift. Our installers will use adjustable height brackets to mount the parts of the track to each step. Typically, installation requires about 16 holes to be screwed for four brackets. It is alright to have carpeted stairs, but the screws will go through the carpet. If you have Berber style carpet, installation may require trimming the strands a bit.
When considering stair lift installation, you must look at how the track will extend beyond the bottom step to the floor. If the lift goes into an open room, it may present a tripping hazard. This is when a folding track at the bottom should probably be used. The same logic applies to the top of the staircase. Also, if there is a door near the top or bottom of the stairs, alterations must be made, but these are simple and can be addressed by one of our experienced stair lift experts.
Stair Lift Reimbursement
The Veterans Administration often will pay for a stair lift for their members. Call 1-877-VETS or go to www.va.gov to see if you qualify for reimbursement. Unfortunately, Medicare or Medicaid do not reimburse for stair lifts at this time.
Call
1 (800) 347-7690
for our lowest prices!